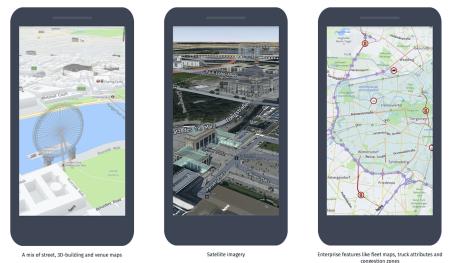 Beautiful mobile maps
With HERE Mobile SDKs you have the ready-to-go tools you need to build compelling and highly differentiated business applications.
List of key features
Rich location features and functions are unlocked through maps, LiveSight directions, places, traffic and guidance components for online and offline usage.
Maps
2D/3D vector maps, satellite images, 3D maps
LiveSight
Augmented reality for users interactions with objective and places right from the camera view
Traffic and Guidance
Vehicle and pedestrian routing. Truck directions using truck related attributes
Places and Search
Online search by addresses, name or category for places and point addresses
Traffic and Guidance
Hybrid & offline navigation for drive & walk. Real time traffic for alternatives to destinations
Offline Capabilities
Download maps for >190 countries, >60 languages. Maps preload for offline usage
HERE captures and indexes the world with uncompromising precision. HERE offers leading map content and access to robust, flexible location services via the HERE Platform for Business for a wide range of industries requiring fixed and mobile asset management.
Contact us for more information or if you are a developer, start your free trial now.
Data Volume
Transactions recorded on HERE Location Servies every month
Geocode and Search
Number of requests processed every month
Reliable Service
Service-level agreement (SLA) yearly average
Market Leader
Our maps can be found in four out of five in-car navigation systems in North America and Europe
Enduring Business
HERE has buit an uninterrupted history of location innovation
HERE Team
Number of employees in more than 55 countries